Product Description
Introduction:
This instrument enables to test the scratch resistance performance, adhesion performance, hardness and linear and rotation abrasion on the coating. It has an automatic sample locking test platform, rotation and movement, test pressure adjustment and speed adjustment can be achieved. With the improvement of product quality and QC frequency increasing, the traditional manual test method will be replaced by intelligent, automated method, to avoid human error caused by the operator. BEVS 2205 provides fast and accurate test results for companies which have batch testing requirement, R&D department and testing organisations.
Technical Specification:
◆ Panel Size: Max. Width 75mm
◆ Sample Thickness: 0.5 – 20mm
◆ Standard Load Range: 5 – 50N
◆ Special Load Range: 1 – 10N (Optional)
◆ Cutting Stroke Length: Max. 45mm
◆ Cutting Speed: 2 – 20mm/s
◆ Cutting Space: 1-5mm
◆ Scratch Stylus: Ø 0.5/1.0/ 2.0mm
◆ Pencil: 9B – 9H
◆ Dimension: 550L x 410W x 520H mm
◆ Power Supply: 110/230V AC, 50/60Hz (Optional)
◆ Max Power: 500W
Features:
◆  LCD colour touch screen
◆  Full automatic operation
◆  Sample clamped automatically
◆  Rotated and movable platform
◆  Automatic adjustment of load range
◆  Automatic adjustment of speed and stroke
◆  Cutting space adjustment
◆  Cutting number adjustment
◆  Data enables to save and output
◆  Main Interface: Real time display cutting, scratch and related operating parameters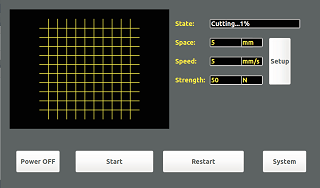 ◆  Setting Interface: Running speed, cutting space and load etc.
◆  Setting Test Mode: Select and set cross cut, scratch and pencil hardness etc.
Standard:
ISO 2409, ISO 15184, ASTM D3359, ASTN D3363, BS 3900 E6, GB/T9286-98
Order Information:
BEVS 2205 Multifunction Coating Performance Tester